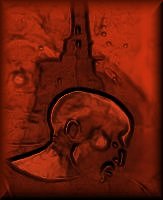 Quiet Tales of Dark Fantasy & Horror
F&B WINS YEAR'S BEST MAGAZINE AWARD IN JOBS IN HELL NEWSLETTER!
SUBSCRIPTIONS/ORDERS:
Single copies of Flesh and Blood can be bought at $4 per issue. A three-issue subscription is $11. Checks or money orders should be made out to John Fisher and sent to the mailing address below. Please do not make out checks/money orders to 'Flesh and Blood'. They will be returned.
Issues # 1 and 4 of Flesh and Blood are SOLD OUT!
FLESH AND BLOOD PRESS CHAPBOOKS
"What the Cacodaemon Whispered" By Chad Hensley
FLESH AND BLOOD COVERS!
THE CONTENTS OF ISSUE #7:
Fiction:
"The County Fair" Jeff Vandermeer
"Oliver's Room" KR McGee
"The Storm Horses" Scott Thomas
"Autumnal Fete" John Urbancik
"Someone in the Fog" Gene-Michael Higney
"Nipping the Bud" DF Lewis
Poetry:
"Why I Believe in Ghosts" Jamie Wasserman
"Jump Rope" Carol MacAllister
"Dreaming October" Wendy Rathbone
"Figment & Other Bedtime Friends" Samuel Minier
"Reunion" John Picinich
"Savings & Loan" Chad Hensley
"The Boys Under the Bridge" by John Braunseum
THE CONTENTS OF ISSUE #8:
Projected Release: Late Summer 2001
Fiction:
"A Thousand Floors, A Thousand Sounds" Mary Sass
"The Sorcerer's Cafe" loan Petrocoulapis
"Lost & Found" Suzanne Donahue
"The Reverie Styx" Forrest Aguirre
"The Jane That House Built" Tracy Majka
"Wilson's Ghosts" Jon Hodges
Poetry:
"Shadow Cast Cat" Nancy Bennett
"The Sleepwalker" Richard Gessner
"Nain" Jacie Ragan
"Witch Boy" John Braunseum
"Pupal Caul" Sarah Jacobs
"A Steady Hand" Angel Reign
"Carnival of Days" Lake Vajra
Non-Fiction:
Interview with Tom Piccirilli by Michael Laimo
Flesh and Blood's Guidelines and News Page
Just a Few Future Contributors to Flesh & Blood:
Jack Ketchum (interviewed)
Tom Piccirilli (interviewed)
Geoff Cooper & Brian Keene (interviewed)
Mike Allen
Forrest Aguirre
Suzanne Donahue
Nancy Bennett
Monica J. O'Rourke
Wendy Rathbone
This page has been visited
times.
Jack Fisher; Editor
HorrorJack@aol.com
Artwork Copyrighted by Robert Sankner