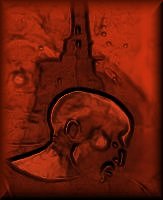 FLESH AND BLOOD #2 IS NOW BACK FROM THE PRINTERS. ORDERS ARE CURRENTLY BEING TAKEN/SHIPPED/FILLED.
Single issues are $4 and subscriptions are $14. The first issue of Flesh and Blood is SOLD OUT!
For the second issue we have out of this world writings! They are works by:

Fiction by:
"The Migration" Donna Taylor Burgess' Lead-story.
"Splashing Contest" Scott Sigler
"Six Ways from Sunday" Ken Goldman
"To Pierce the Eye of God" Trevor Aaronson
"The Apostales of Jonas Falls" Lee Clark (serialized part 2)
"Just a Game" William Hughes

Poetry by:
"Claimed" Cindy Main
"Forensic Truth" Richard Fein
"Ressurection" Sherrie Holmes
"Darkness in the Woods" Kimberly Thomas
'Til the End of All Time" Jeff Glover
"Man-Beast" John Grey

Flesh and Blood's Nonfiction by:
Extensive interview with Yvonne Navarro by Scott Ruddick. 
A column by Jeffery B. Roth.

Art By:
Robert Sankner
Kenneth Haas III
FlatLine (cover art)



THE CONTENTS OF ISSUE #3:


Fiction:

"Plain Jane" LK Rogers
"Scare Me" Jon Merz
"Tsarina's Wintercoat" DF Lewis
"The Silences" John Rosenman
"The Promise" Matt Mcgovern

Poetry:

"C-Section" Kurt Newton
"Cannon Fodder" JW Donnelly
"Gone with the Wind" Cathy Buburuz
"Dust to Dust" James Dorr
"Blood Angels" Donna Taylor Burgess

Flesh and Blood Non-Fiction:

"Jaded Genre" Jeff B. Roth
Interview with Edward Bryant by Scott Ruddick


News Brief:


Issue #4 will have an interview with Poppy Z. Brite!

---


FLESH AND BLOOD WILL NOW BE ACCEPTING FICTION AND
POETRY TO BE SUBMITTED THROUGH EMAIL.
EXPECT A 1-7 DAY RESPONSE TIME. EMAIL SUBMISSIONS
TO THE BELOW ADDRESS AND BE SURE TO FOLLOW THE
GUIDELINES.



ahhh@webtv.net














---





Flesh and Blood has changed it's 
publishing schedule from quarterly to 
triannual just so each issue is out on 
time and not 2-4 months late.Issue #3 will
be done and ready to be sent by July and 
#4 will be done and ready to send by December,
perhaps a little into January. A triannual
publishing schedule for the new year will
be posted when the time draws closer.
Please email the editor with any comments 
questions,problems, withdrawals, etc. 






---









---





Join the Editor-in-chief and staff in chat at:

3:00p.m.
6:00p.m.
7:30p.m.

Weekends:
10 a.m.
3 p.m.
7 p.m.
We WILL be there!
#writers on Talkcity.





---





Just a Few Future Contributors
to Flesh & Blood:





Poppy Z. Brite
David Niall Wilson
Charlee Jacob
Brian A. Hopkins
Mary Soon Lee
John Rosenman
DF Lewis
Lee Clark
WendyRathbone
Mark Mclaughlin







---





This page has been visited 
times.





Jack Fisher; Editor




ahhh@webtv.net






Artwork Copyrighted by Robert
Sankner